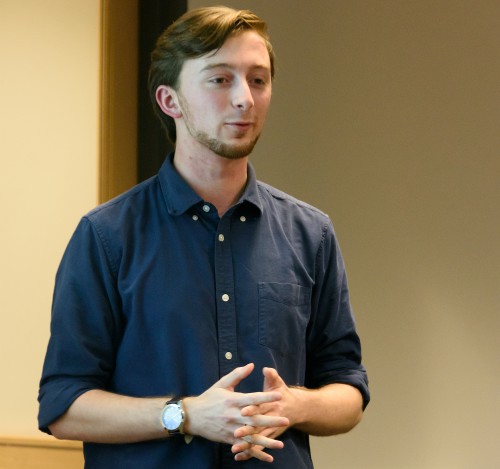 PATRICK CELENTANO '18 DISCUSSES instrument storage woes.
Patrick Celentano '18 and S. John Trombley '17 from the Rensselaer Orchestra presented to the Senate about how a steam pipe burst in the ceiling of their instrument storage room, causing thousands of dollars in damages to instruments. On Monday, November 2, Celentano explained how he walked into the room to put his instrument away, and saw "pools of water on the ground" and that the humidity in the room was extremely high. Orchestral instruments are designed to be stored in climate-controlled conditions, and West Hall has had consistent climate control issues which recently climaxed with the burst steam pipe, according to the presenters. To add further insult to injury, the RPI FIXX service did not even address the problem until the following Wednesday, and did not determine that a steam pipe had burst until Friday, November 6.
They also told the Senate that orchestra has no budget to buy new music; only copy existing pieces and that any successful program needs to be able to expand their repertoire. Trombley said, in regard to the facility's issues, that each day the issues aren't resolved will lead to more student property damage. Celentano and Trombley wanted advice from the Senate on how they might best air their grievances over the situation to the right people in administration in order to make sure a similar situation never happens again. They shared a letter they drafted, which they intend to send to the School of Humanities, Arts, and Social Science's Dean Mary Simoni and President Shirley Ann Jackson.
Senators Bill Mehner '16 and graduate Jen Church suggested that orchestra students speak to staff closer to the issue before directly communicating with either Dr. Simoni or President Jackson, because that could be seen as trying to work around established processes. Church also said that the Graduate Council would be glad to share contacts as they underwent a similar effort with student stipends. Discussion then moved to which Senate committee the work will officially be charged to. It was ultimately decided that the Student Life Committee, under the leadership of Paul Ilori '17, will be the one to take on this issue through a motion passing 17-3-1.
The discussion on the appointment of freshmen to the Executive Board was brought up again as the Rules & Elections committee issued their official recommendation that the appointment of the two freshmen members at-large would be unconstitutional. A quick addendum was made to the state that RnE believes the constitution should be changed to allow freshmen appointments at the time of freshmen elections. Senator Justin Etzine '18 stated that the concern of a President of the Union stacking E-Board to vote in their favor of their opinions is unfounded because the Senate has to confirm all E-Board nominees. It was noted that PU Nick Dvorak '16 decided to appoint the two freshmen in question as E-Board officers, meaning that they do all of things an E-Board member can do except for the actual act of casting a vote on motions. Ultimately, the Senate decided to indefinitely postpone the original motion to formally appoint the two freshmen, seeing how they are already de facto members of E-Board.
The petition to ban Andrew Sudano '17 from all student government positions was discussed further as well. Austin Miller '17 asked if the Senate was even allowed to ban students from student government. Grand Marshal Marcus Flowers '16 told the Senate that he does not believe such a move is possible because student government is meant to be open to all students, and the motion would constrain next year's group of elected student leaders. Graduate senator Timothy Krentz motioned to postpone the motion to outright ban Sudano indefinitely from all student government positions, and it passed 14-5-2.
Flowers ended the meeting by telling the Senate that the student panel with administration to discuss the Summer Arch program has been postponed until sometime in February. He said the decision was made because the administration didn't get back to him on time with attendance, and he was also told that more details would be forthcoming after winter break. When asked about having a smaller forum now, and a larger one later, he said he would be open to the idea of having a student committee formed exclusively to deal with feedback on the implementation of Summer Arch. He said he wants to have a time and place for students to express their concerns without the pressures of having administration members present. Flowers said to expect more details in the near future about student participation, and that he is looking for any interested student to be involved.