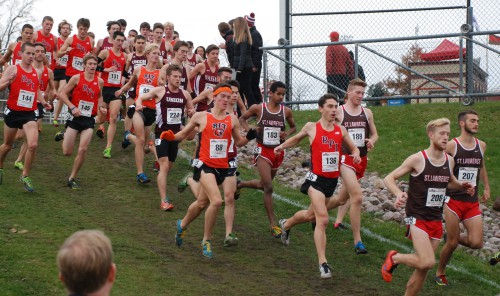 JUNIOR BEN FAZIO TAKES to the front pack as the starting field heads down the first slope.
Since 2002, the St. Lawrence women's cross country team has taken every league championship meet, until now. This year, despite having a home course advantage, the Saints of St. Lawrence University were finally cast down from their front-runner status in the league hierarchy.
It was the year when most of the Class of 2019 was born, 1997, that the RPI women's cross country team last won a Liberty League title. All of that changed on Saturday when they made their longtime rivals from St. Lawrence release the clutch they had held on the first place trophy for 13 consecutive years.
"My coach, teammates, and I are all incredibly excited having won the Liberty League title [on Saturday]," said junior Mary West, who came in ninth in the race with 23:09.1. "This has been a big goal of ours for the last three years, and to finally accomplish it and to upset our rival team was definitely one of the best moments of my life. Coming in ninth place overall and fourth for our team was a great feeling for me because at this time last year, I was the last girl on our team. Dedication and motivation of my teammates has helped me to make strides in my running career, no pun intended, and I could not have done this without them.
"To be on the scoring team and to directly help our team to win was so satisfying after coming all this way. The hardest part now is to not be overly confident. We have our regional meet in two weeks where we will face very good, nationally ranked teams who all want the same thing as us: a spot on the starting line at nationals in Oshkosh, WI. The depth and ability of our women's team this year is greater than it ever has been and I believe that nationals can be in our grasp if we stay smart and focused in these next two weeks leading up to regional's. I've gone through everything with these girls, and to share these successful moments with them is the biggest reward."
Six women graced the top 15 in the six km race. First to cross for Rensselaer was sophomore Jaime Lord in 21:57.0, runner-up to the leader from St. Lawrence by a margin of 13 seconds. Senior Shannon Trant was next to appear on the homestretch, coming in at 22:24.7 in fourth place. Following on the RPI radar was junior and women's team co-captain Maddie Dery, striding over in 22:33.6. Following West, senior Alexa Sakorafos completed the course in 23:24.7, placing twelfth, and rounding out the Engineers' presence in the front was senior and co-captain Loki Rasmussen in thirteenth with 23:29.1.
"The course was really muddy, which definitely made it slower…but we knew what we wanted and were willing to put in the effort to win the Liberty League title," said Dery. "We believe that any day is a great day to race."
The men's team has also managed to hold on to the first place trophy for many a year. Guarding it since 1995, the Saints have only shared it once in 2005 with the Engineers due to a tie in points, and they refused to let go of it on Saturday. Regardless, the men made a dominant name for themselves at the meet, earning an honorable second place to St. Lawrence 57-19. In their eight km race, junior Ben Fazio was first to blast through the finish for RPI, crossing in fourth, with a time of 25:51.2. Only he and freshman Grant O'Connor, who came in tenth with 26:26.3, finished in the top ten, whereas St. Lawrence landed six men in that bracket.
"We had a good showing as a team and overcame many of the challenges that come with a difficult course," said Fazio. "We're confident going forward that we're a strong enough team to place well at the regional meet and move on to the NCAA championship. The team that will be moving on to regionals is very young, with only myself and Steve Hammar having run the meet before, so everyone is very excited to represent RPI and to improve on the team's performance from last year."
After O'Connor came sophomore Matthew Stewart for RPI in thirteenth, followed immediately behind by senior Steven Hammar. Junior Tyler Carrara and freshman Sean O'Connor fought their way up to the front to finish in sixteenth and seventeenth. Junior Garrett Davis crossed after them in nineteenth.