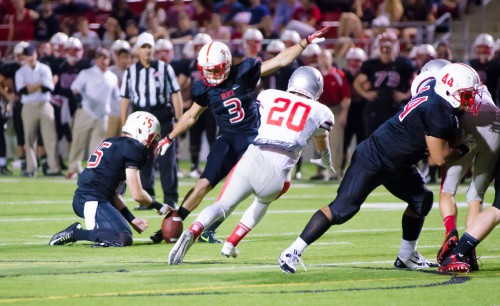 RPI KICKER ANDREW FRANKS '15 SIGNED with the Miami Dolphins as a free agent. During his time playing for RPI, he was an All-American and set a school record for longest field goal.
On Saturday, May 2, RPI senior place kicker Andrew Franks signed a free agent contract with the Miami Dolphins of the National Football League. The seven-round NFL Draft started April 30 and extended into the afternoon of May 2; however, during that time, none of the 32 teams selected a kicker.
Franks started as kicker and punter all four of his years at RPI. During his four years, he made 37 of his 56 field goal attempts, including 16 of 25 during the 2014 season. In addition, Franks set and reset the record for longest field goal at RPI three times. The record now stands at 54 yards, which he set against Hobart College last October. The kick was also the longest in Division III this season. Over the past two seasons, Franks also knocked in three-pointers from 50, 51, and 52 yards. His 37 field goals are the most any kicker has ever made at Rensselaer.
On kickoffs, Franks averaged 61.2 yards per kick and broke the school record for touchbacks his senior season with 33. As a punter, Franks punted a total of 102 times and landed 31 inside the 20-yard line.
In both his junior and senior seasons, Franks earned D3football.com All-America First team honors as well as the award for Liberty League Special Teams Player of the Year. In addition, Franks also earned Liberty-League All-Academic honors as a Biomedical Engineering major in his final three years as an Engineer.
As a newly-signed member of the Miami Dolphins, Franks will report to rookie camp this week and then will take part in training camp next month. In order to make the team, Franks will most likely need to beat out Dolphins starting kicker Caleb Sturgis. This is because most NFL teams only keep one kicker; some teams, however, keep one kicker for field goals and another for long distance kicks and kickoffs. For this reason, kicker is one of the, if not the, most difficult positions to be successful at.
Franks is one of just eight undrafted free agent kickers to be signed following the NFL Draft. During his training workouts with the Dolphins, he will be fighting for not only a position on the team, but also striving to gain recognition from the other teams, as well.