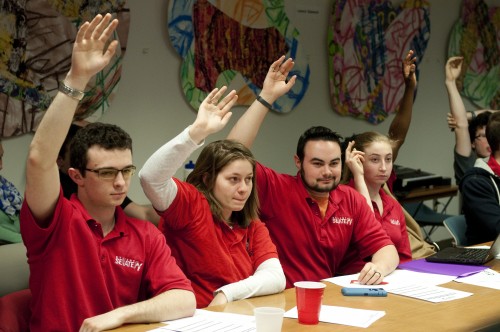 Senators vote to pass the Student Activity Fee with a 21-3-3 . This is after the Student Activity Fee wasn't approved last week.
The Senate meeting last Thursday was a direct follow up of the previous week's two meetings. First off, there was a temporary motion to have a formal queue for that night's meeting, meaning one can speak for an unlimited time, rather than just two opportunities of a maximum of 10 minutes each. The motion passed with a vote of 19-3-0, ensuring all senators had a chance to voice their opinion during the feisty meeting.
The second motion of the evening as proposed by graduate council member Jenn Church and seconded by Paul Illori '17 was to reconsider the Student Activity Fee and the individual club fees, which passed 17-4-1. The majority of the discussion following that motion consisted of inquiries into why individual Senators had chosen to vote "no" on the previous week's motion. Michael Han '16 asked why people were still denying the raise in the Student Activity Fee. Jessica Krajewski '16 mentioned that she had abstained during the first vote around because of the lack of numbers in front of her to base her decision on. President of the Union Erin Amarello '15 stated there are funds for travel contingences and emergencies, and it is very possible to transfer funds whenever necessary. Shortly thereafter, Justin Etzine '18 proposed a motion to end discussion, which did not pass with a vote of 9-13-1.
Keegan Caraway '18 brought up how many senators in the room have already made up their minds, and those that still vote "no" to the raise in the Student Activity Fee either do not want to pay more or lost their budget to a club. Graduate council member Spencer Scott stated "[a graduate student] can't get a fair share" of the Student Activity Fee, implying his strong decision of continuing to deny the motion. Edward Qiao '18 voted "no" to represent his friends that aren't in clubs and don't participate in many events, since the activity fee raise must represent all students. Some of the funds from the fee are distributed to buildings, such as the Mueller Center and the Union itself, which "rounds the college experience," according to Andrew Sudano '17. Amarello included that it is difficult to fulfill every single student's desires and that "the senators and the Union are trying their best" to accommodate everyone; the graduate students currently have the pub, since they are 21 and older, and she encourages graduates to come to her and discuss what new programs they will like to see while she is still in office as President of the Union for the next month and a half. Graduate student James Gambino stated that his biggest concern dealing with his rejection vote is that he would like to see the Activity Fee balance with teaching assistants' and research assistants' salaries. Shoshana Rubinstein '15 mentioned that it is difficult to distribute money due to the large number of places it goes.
The final vote of the Student Activity Fee occurred, which consisted of graduates voting first and going down class years until all freshmen have voted. The motion to raise the Student Activity Fee passed with a vote of 21-3-3. Additionally, the Union Annual Report for the fiscal year of 2016 passed and was made public upon the closure of that senate meeting. The meeting then shifted to Rindone's presentation on Residence Hall Recommendations, according to the Student Senate survey that was released last semester to Rensselaer students. "Low cost but impactful changes" will go into effect as soon as possible from Residence Life and improvements will "prioritize core amenities over entertainment luxuries," according to Rindone. The meeting came to a close after a few additional senator comments on the residence hall changes and the weekly committee updates.