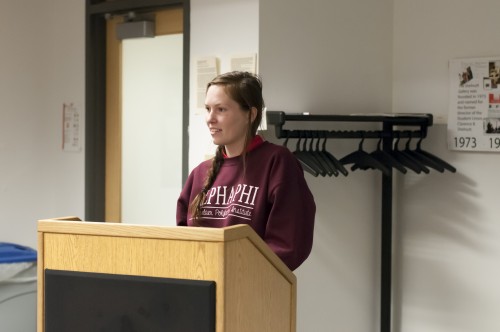 ABBY LINDBERG '16 STANDS in front of the Executive Board proposing a new budget for Women's Club Soccer.
After not meeting last week, the Executive Board met to discuss the budgets of the Rensselaer Pride Alliance and Women's Club Soccer.
First on the agenda was a proposal by James Van Bebber from the RPA. Van Bebber was presenting to the Board regarding a change in the projected profit of Drag Show, a charity event held once a semester to raise money for the Damien Center in Albany. The board had raised the suggested income from $500 to $1,100 dollars. Van Bebber said that the aim of the event was to donate to charity, and that an increase of more than double would not leave them enough to donate. Erica Hutchins '15 made the problem clear, stating the Rensselaer Union would not provide money from the Student Activity fee to a charity event. The purpose of the fee is to support events for Rensselaer students. President of the Union Erin Amarello '15 said that if it were an event for students with the option of donating to charity, the Rensselaer Union would support the event, but because it was specifically charity event, the Union could not fund it. However, because Van Bebber made it clear that the event was only spending $500 and not the $1,100 in the budget, the board agreed to lower the amount. In their first motion of the evening, the board voted 14-0-0 to lower RPA's Drag Show costs from $1,100 to $500.
Second on the agenda was Abby Lindberg '16 presenting for Women's Club Soccer. Women's Club Soccer requested Union funding to cover league fees and equipment costs. Lindberg stated that currently each team member is paying $32 to cover league fees and referee costs, and that most of the team's equipment, including soccer balls and cones, is owned by members who will be graduating within the next year. Lindberg hoped that the budget would put Women's Club Soccer on par with the budget given to Men's Club Soccer. Andrew Sudano '17 then reminded the board that the membership fees for Men's Soccer are higher, so the Union did not have to provide them with as much money. After some more discussion, Amarello said that getting equipment for the team was a priority, and that the team should be responsible for paying its own league and referee fees. In motion two of the evening, the board approved 14-0-0 to give $300 to the Women's Club Soccer team for equipment, and also pay $0.25 per mile for traveling to away games and tournaments.
The meeting then moved to the Directors Report, Senate Report, and President's Report. In the President's Report, Amarello reminded board members to speak to their clubs about preliminary budgets for the next year. The meeting then closed.