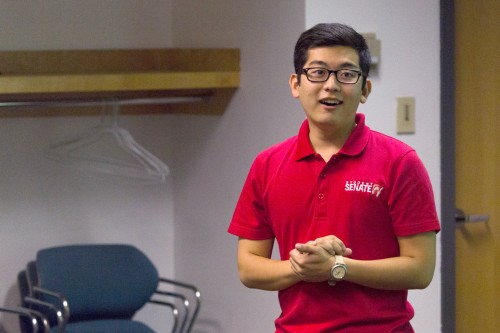 MICHAEL HAN '16 EXPLAINS the annual Light Walk. Senators walk around campus and areas of Troy that students usually walk and look for potential safety hazards such as lack of lighting, broken sidewalks, and so on. Hazards are noted down and given to Public Safety to be taken care of by RPI or by the city of Troy.
The Student Senate once again convened on Monday, September 29 for a multitude of student-related activities. The meeting began with the Senate's annual picture and soon delved into the motion of the week. Congratulations were then given to the new freshmen senators, Justin Etzine '18, Jennifer Freedberg '18, Steven Sperazza '18, and Keegan Caraway '18. Soon after the approval of previous minutes, a ceremonial motion was put forward congratulating and thanking Dr. Timothy Sams, vice president of Student Life. Sams is resigning his post on October 10 to move on to Morehouse College to accept the role of vice president of Student Development. The motion acknowledged Sams' immense support in student diversity, avocation for all aspects of students' vocations, and overall work during his years at RPI. The motion honors and thanks Sams and wishes him the best of luck in his future work. The motion passed with a vote of 19-0-3.
To help accommodate the day's schedule, the meeting then broke pattern and went into committee reports. Marcus Flowers '16, head of the Academic Affairs Committee, reported that progress was being made for posting syllabi online and organizing a better system for undergraduate research. The Vice Chairman of Facilities and Services Committee, Michael Han '16, reports that his committee has taken back the issue of pet-friendly housing and invites freshmen senators to join in.
Han then took the floor with a presentation regarding the Light Walk, an annual Senate event. The walk takes all of the Senate members and has groups of them tour campus along different routes. During the walk, the Senate members note down anything that may affect the travel of RPI students, such as broken sidewalks, dim streetlamps, and ineffective crosswalks. The Senate was able to complete this walk and input data to a central location. This information would then be compiled and sent to Public Safety, where it would reach Lt. Leslie Nelson. From there, Lt. Nelson would try to fix these problems, recognizing the fact that some would have to be covered by Troy rather than RPI.