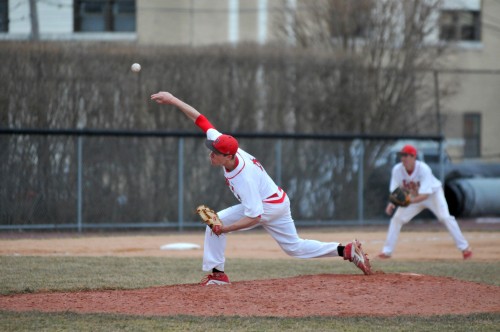 JUNIOR PITCHER JARED JENSEN DELIVERS a pitch to the plate in a game against Skidmore College. The Engineers faced off against the Union College Dutchmen for four games over the weekend. Jensen started the first game Sunday, going six and two thirds innings, giving up five earned runs. Jensen is 1-3 on the season with a 4.78 ERA.
On Saturday, April 12, RPI baseball hosted Union College for a doubleheader of Liberty League action. This matchup looked to be a good one as RPI entered the weekend with a record of 14-6 while Union began the series 9-4-1.
In the top of the first inning of the opening game, Union's centerfielder Sam Caruso doubled to right centerfield with one man out. Then, with two outs and Caruso on third, right fielder Kent Curran singled up the middle to make it 1-0.
Good pitching and defense by both teams made the next inning and a half go by quickly as neither side managed more than one base runner in any of the subsequent three half innings of play. In the third, it was once again Union doing the scoring. Shortstop Anders Goetz singled to right. Then, an error by junior left fielder Tyler Listing allowed Caruso to reach base again with one out. After a bemusing catcher's interference call loaded the bases, Curran recorded his second RBI on a sacrifice fly to right that made the score 2-0 Union. Then, Union's pitcher Jake Fishman got into the action with a single past short to drive in Caruso. These two unearned runs and a Union double to start the next inning led to a sudden pitching change for RPI. Senior starting pitcher Sean Conroy stepped aside for junior reliever Adam Kalish after facing only one batter in the fourth inning and surrendering just one earned run.
After a Goetz single to right field allowed third baseman Jeff Grasso to score to make it 4-0 Union, RPI made a run of its own in the bottom of the fourth. Listing singled to center. Sophomore centerfielder Nick Annunziata hit a groundball single to the left side that Goetz was unable to handle in time. Then, senior right fielder Shane Matthews drew a walk out of Union's suddenly rattled Fishman. After senior catcher Eric Kozak fouled out, a Fishman wild pitch allowed Listing to score and placed runners at second and third with just one out. Freshman second baseman Matt Lawrence delivered with a trickling single to second that produced a second Rensselaer run. The inning ended harmlessly for Union as Lawrence was picked off trying to edge out towards second base, and junior third baseman Tim LeSuer grounded to Fishman for the final out.
RPI didn't threaten Union's lead again until its final chance in the bottom of the seventh inning. After five innings of two-run baseball, Union's Fishman was pulled in favor of relief pitcher Chris Pignatello, who retired all three hitters he faced in the sixth. But LeSuer walked to start the seventh. Then, senior first baseman Andrew Kalish singled to right. A groundball from the bat of senior designated hitter Al Mersman resulted in a fielder's choice to second that put runners on the corners with one out. Then junior pitcher Jared Jensen pinch hit for junior shortstop Nick Palmiero and obtained first on a hit-by-pitch. The bases were loaded with one out. The game came to an abrupt end as freshman pinch hitter Thomas Desmond grounded into a 6-4-3 double play for the final two outs of the contest. The Engineers made it interesting for the Dutchmen, but Pignatello managed to close out his second save of the season and helped Fishman to reach a record of 4-0 for the season.
In the second game of the day, the Engineers once again dug themselves into a deep hole. After five innings of play, the score was Union 7, RPI 0. But the three runs given up by sophomore reliever Greg Echeverria in the fifth inning would be the only runs he allowed in his seven innings of work to finish the game for RPI.
Finally, RPI's offense clicked into gear in the bottom of the sixth inning. Successive doubles off of Union starter Dane O'Neil by Andrew Kalish, Mersman, and Jensen resulted in two runs to put Rensselaer back on track. Then, in the seventh, a single from sophomore catcher Chris Holomakoff put runners on first and second with no outs.
A misfielded grounder by Union second baseman Joe Bradlee loaded the bases. Later, a skillful piece of hitting by LeSuer resulted in an RBI single to left center. Then, a roller short off the bat of Mersman resulted in a fourth run for RPI. These runs would be all for RPI in the seventh despite a golden opportunity to make a complete dent in Union's one time seven-run lead.
A quick top of the eighth brought the Engineers to their second to last chance. Freshman first baseman Steven Wells singled to center to open the inning. Then, after Lawrence pinch ran in Wells stead, Pignatello came in to pitch for Union. In response, Listing singled and Matthews walked. With one out, Palmiero sacrifice-flied to right, bringing home Lawrence. Then, LeSuer followed with a clutch two-out single to left to bring in the Engineers' sixth run. Again, RPI left two runners on and failed to tie the game.
In the final inning, Union's Pignatello resumed control of the plate, retiring all three Rensselaer hitters he faced and collecting his second save of the day. For the second consecutive game, RPI came up one big play short of tying or taking the lead.
Two more games at Union on Sunday resulted in one win and one loss for RPI. With the close of the four game series against Union, RPI stands at 15-9 overall, and 7-7 in Liberty League play while Union advances to 12-5-1 overall and 6-2 within the conference.
Upcoming for the Engineers are a road matchup at Montclair State University in New Jersey on April 16 and a home contest against Williams College on April 17.