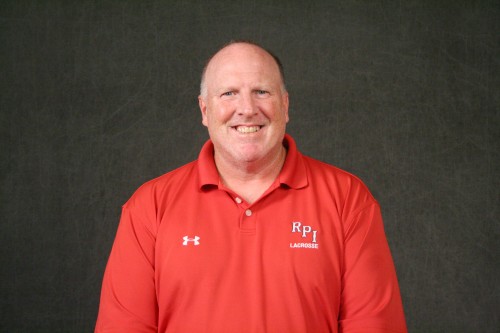 COACH JIM TOWNSEND ENTERS his 16th season at the helm of the RPI Engineers men's lacrosse program with a hot start going 5-2, with 77 goals from his offense versus 42 goals scored by opponents in seven games.
On March 24, I was given the gracious opportunity to sit down with men's lacrosse coach, Jim Townsend. Coach Townsend has coached at RPI for 16 seasons, taking a brief hiatus from 2002 to 2007. Overall, RPI's Coach Townsend has produced 131 wins and 91 losses over his career at RPI, a winning percentage of 59 percent.
RPI's men's lacrosse team is 5-2 overall and 1-0 in the Liberty League. With eight games left, RPI lacrosse is half way through their season and look to have a promising second half to what has already been a successful season. So far this season, Coach Townsend's offense has been a scoring machine, producing 22 goals in a single game and averaging 11 goals a game. However, Rensselaer's defense has also been instrumental to their success. The defense has only allowed an average of six goals a game, and seems to be only getting stronger with every game.
I started off the interview asking the coach about his philosophy for this season­—seeing if he is doing anything different this year that has lead his team to have so much success. Townsend responded by saying, "It's a different team makeup this year, last year we graduated eight seniors. This year is a much younger team with a lot of freshman and sophomores. The philosophy really hasn't changed much from year to year. We always want to be good defensively, keeping the ball out of the net allows us to be in every game." So far this season, anyone would be hard pressed to find any way in which Townsend could improve upon his game plan to produce more success.
With the Engineer defense being a key to this year's success, I asked Townsend about his opinions of the line. He responded by saying, "That is where we have such veteran leadership. It starts in goal with Alex Castronovo '14, [who] in the last three games has been playing very well. Going into the season, we thought that we were only five guys deep, and that was a major concern." Townsend then went on to talk about all of the adversity that the defense has had, such as being plagued with injuries; however, many players have been able to have an important impact filling in for their teammates.
I went on to ask Townsend if there has been anyone who has surprised him on the field so far this year. He responded by saying, "Breanainn McNeally '17 has the potential to be one of the best we have had. We knew he was good coming out of high school. I don't know if we realized how good he was." He went to mention a couple other players such as freshman Matt Hall who was converted from midfielder to attackman and has been playing at a very high level. He also mentioned junior Aaron Shavel, a midfielder, who, since being put in the lineup, has made a huge contribution.
Comparing this season to last, I then asked Townsend, "Last year at this time, you were 4-3 and now you are 5-2. Do you see anything different in this year's team that would lead for you to have a more successful season?" He responded by saying that, "This year's team is better. Offensively, this year's team has a higher [lacrosse] IQ, and we have more play makers than we did in previous seasons." He went on to say that last year's team had problems scoring and, as their games have shown, the offense has not had a problem scoring so far this season. That said, the teams that they have defeated by such a large scoring margin may not have been the greatest of teams.
When asked about what he thought the key to success was for the rest of the season moving forward, he stated simply that his team has to just "keep doing what they're doing." He said that the team has bought into what what they want to do, and the attitude on the team has been phenomenal.
With the season having started off so strong, I went on to ask the coach about what he thought the biggest hurdle for team was moving forward. He said, very adamantly, "staying healthy." Later, he said this is important because they don't have much depth in certain positions. But, if everyone remains healthy, they will be able to have an impressive rest of the year.
I concluded by asking him what his goals were for RPI men's lacrosse moving forward into the future. He said, "Our goal here at RPI is to win a Division III national championship." This may seem like a tall order, but with a coach like Jim Townsend at the helm, this dream could become a reality.