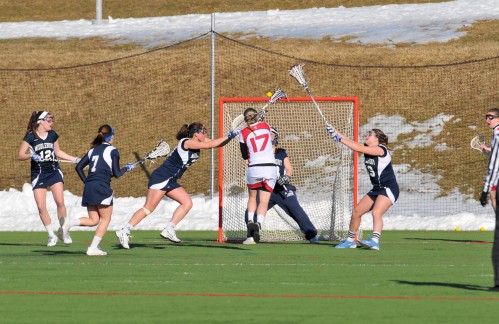 This week's Athlete of the Week is senior midfielder Marissa Page (No. 17) of the women's lacrosse team. Page led the Engineers with three goals in their home opener against Middlebury College on Tuesday, March 18. The midfielder picked up her first goal of the game, her fourth of the season, with an assist from Jamie Wakefield at 1:24 to give the Engineers an early lead. With the Engineers down 2-4, Page scored her second goal, assisted by senior captain Rachel Scofield, at 7:05. Her third shot on goal was saved by Middlebury goalie Alyssa Palomba.
Page netted her third and final goal, assisted by junior midfielder Erin Riley, 45 seconds into the second half to tie the game 6-6. She scored three out of her four shots on goal for a single game shooting percentage of .75 and improved her season shooting percentage to .545.
The Athlete of the Week award is a new feature that will spotlight an in-season athlete who has demonstrated exceptional skill, teamwork, and sportsmanship. The award is selected by the sports staff of The Polytechnic, with input from RPI Athletics and the campus at large. If you have a suggestion for future athletes of the week, send an email to sports@poly.rpi.edu.