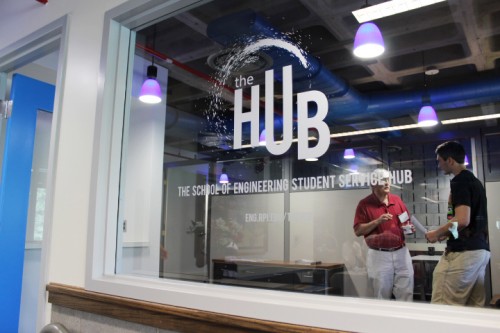 THE SCHOOL OF ENGINEERING'S STUDENT SERVICE HUB PROVIDES freshman and sophomore engineering students with peer advising from upperclass engineering students.
Last semester, the Rensselaer academic campus was introduced to the new Student Service Hub. "The Hub," as it is better known by, is a service open to all first-year and sophomore engineering students for the dispensing of academic and professional advice. While all RPI engineering students do have advisors that keep them informed and abreast of their academic process, Elizabeth Herkenham, director of The Hub, states that The Hub is a less formal environment and more comfortable for the students. Herkenham states that "[The Hub's services are] not meant to replace the advisor meeting but to augment them." She then goes on to state that students may be afraid or hesitant to ask their advisors questions, especially if their inquisitions seem comparatively small or unimportant. Herkenham regards these types of questions as "somewhat simple but necessary from the student's perspective." It is situations like these in which a student may come to The Hub and ask the dozen peer mentors or the professional staff.
These upperclassmen engineering students have gone through the lower level engineering classes and are willing to sit down with students and speak their advice. Russell Katz '14 stated that it is his pleasure to spend his time at The Hub and educate young scholars. He admits, "There are certain details that are better learned from a fellow student than from a staff member." Fellow peer mentor Amy Seiler '14 wishes that she had The Hub available when she was younger. She states that some students have a difficult time stating their major. She recalls that she "once had a freshman come in and talk to me for over 30 minutes," simply to get advice from a fellow student. Seiler was able to hash out this student's options and point her in the direction of the proper information. In the end, Seiler believes, "I think she really just needed someone to talk to as she decided." The usefulness of The Hub can be confirmed by the positive feedback by those who have used its services. Stefan Hunkler '17 states that the advice given by The Hub's staff has been very useful during his time at RPI. Having been directed to The Hub via his academic advisor, Hunkler was able work with the professional staff who he found to be "very happy to help and were quite knowledgable." He was able to work with The Hub and begin the process of moving previous earned foreign credits in Switzerland into ones accepted by RPI. Hunkler then returned to the service, wanting advice "about dropping a class, just to run it by someone else." Having been provided with accurate information and sensible guidance, Hunkler firmly stands by The Hub's usefulness, stating "I think that it should be known that it's a very helpful service that is available for people to use and take advantage of."
This growing facility is located in the Jonsson Engineering Center 3rd floor Ansell Lounge and is staffed by both professionals and upperclassmen engineering students. The Hub is open with faculty on Thursdays from 10 am–4 pm and Fridays from 10 am–1 pm. The peer mentors in The Hub are available on Wednesdays from 4–6 pm and make the effort to staff on Thursday during a registration period. The Hub's website claims that each peer mentor has been trained to field general policy inquiries, while becoming a near-master in the realms of their own specific major. Furthermore, the site bears the ALAC tutoring sessions that are set up specifically for engineering courses and instructions for setting up appointments with staff within The Hub. For more information on The Hub, go to http://eng.rpi.edu/thehub.