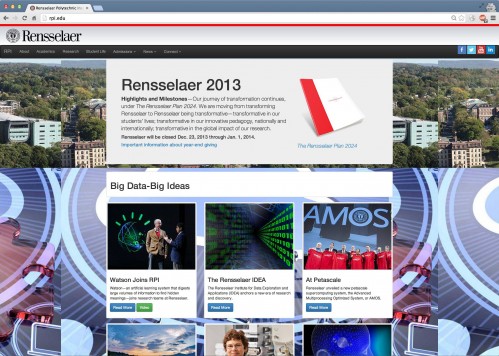 RPI WEBSITE TURNS year-in-review during Winter Break to feature highlights from the past year. Shown on this screenshot are Watcson, the Rensselaer IDEA, and the new supercomputer.
During Winter Break, the RPI website's home page changed to a year-in-review format. While the page was meant to represent highlights RPI had during the past year, some students found the design lacking.
Assistant Director of News and Editorial Services Michael Mullaney explained that, "Over the winter holiday, the Rensselaer home page featured a year-in-review summary of Institute highlights and milestones from 2013. As planned, it went live on December 23, 2013, and was taken down on the evening of December 31, 2013. The Rensselaer home page featured a very similar year-in-review summary during the last week or so of 2012."
Students thought that the new home page design would permanently replace the old one and expressed concerns. Albert Armea '14 stated that "the site just plain looked bad, especially compared to other colleges' websites." Zach Jablons '15 said that the website "looked amateur" and "it was basically Bootstrap,",an often-used front-end framework. Armea felt that changing the design was not a great strategy time-wise; "this was a serious issue at the time because it was in the heat of undergraduate application season and definitely affected prospective students' opinions of RPI." Later, students learned that the home page design was a year-in-review and understood part of why it looked so different from the normal home page.
The RPI home page is now back to the way it was before the year-in-review change.