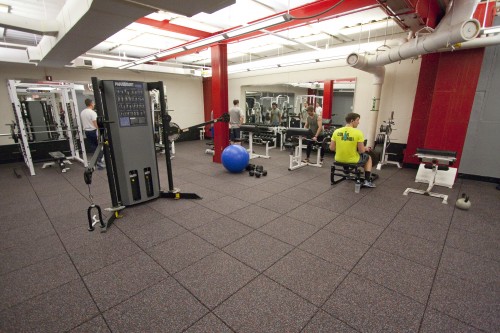 THE WEIGHT ROOM, IN BASEMENT LEVEL OF THE MUELLER CENTER, GOT a flooring makeover during Winter Break. The floor, which cost in the neighborhood of $40,000, was installed very inexpensively because Mueller Center staff installed it themselves. In addition, the old flooring material, which would have cost between $15,000 and $20,000 to remove, was left in place.
Over Winter Break, the Mueller Center weight room got a new floor. Instead of a concrete floor with thin, worn-out rubber matting, the weight room now has a floor of tiles made from recycled tires. The color of the tiles matches the overall color system of the weight room, which is located in the lower level of the Mueller Center.
According to Assistant Strength and Conditioning Coach Drew Henley, the new flooring is warranted for fifteen years in a weight room. It is about an inch thick and sits on top of the old flooring. The old flooring was more suited for cardio machines than a weight room. The new floor is safer and provides more open space and flexibility. The machines downstairs can be moved, which, according to Henley, gives the room a lot more variability.
Students feel positively about the new floor, which was partially funded by the Executive Board. William Pheloung '16 said the new floor was "a pretty good improvement." Pheloung noted that the acoustics were a lot better than they had been with the old floor—sounds seemed to be more muffled. Also, the new floor is more shock absorbent, which Pheloung said he thought would be safer in the case of a weight being dropped. Nick Madonna '15 said that he found the new flooring "nicer to walk on than" the old flooring.
Some students also noted that the new floor makes the weight room seem larger and cleaner. Zachary Ziemba '15 said that he thought the weight room seemed more organized with the new floor. Madonna said that the old carpet that used to be near the weights had been shredding. The new flooring matches the other colors of the weight room, which Pheloung liked. He said that the new design was a lot better.