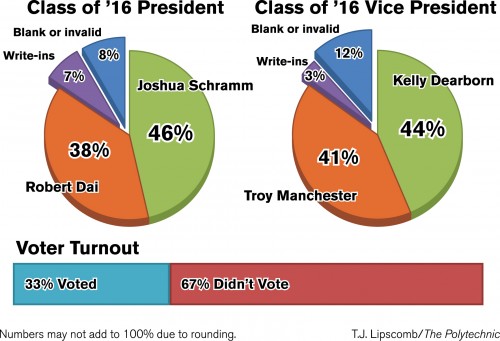 On Friday, September 21, the Student Senate Rules and Elections Committee revealed the results for the Class of 2016 elections. First-year students ran for positions ranging from class president to class council representativ e. According to the results, exactly one-third of the freshman class voted, which is down by approximately ten percent from last year.
On September 9, R&E released a warning to all candidates, reminding them that "all campaign material must be clearly identified with the candidate name and contact information." In this case, the warning referred primarily to the candidates' posters. Similarly, R&E released two violations on September 18 regarding postering rules. The first was directed toward freshmen Austin Hernandez, Marcus Flowers, and Michael Han, while the second was toward freshman Robert Dai and Flowers.
The same day, the results for the presidential primary election were released. Of the four initial presidential candidates, Joshua Schramm '16 and Dai took the top two spots, receiving 28.3 percent and 24.0 percent of the vote, respectively, and advanced to the general presidential election. According to R&E, the results were released after a double hand count of the ballots to guarantee accuracy.
The final elections were held on Thursday. As with the primary election, Schramm won the presidential election, with 46.4 percent of the votes. Kelly Dearborn '16 won the race for Vice President, receiving 43.7 percent of the votes. Four of the five candidates for the senatorial election were announced as the Class of 2016's senators: Han, Donna Li '16, Shoshana Rubenstein '16, and Marcus DeAlba '16. DeAlba won after a triple hand recount, receiving just four more votes than Hervé Guermeur '16. Freshmen Emily Essig, Shamus Wheeler, Katie Cummins, Yi Lin Chen, Nina Padavil, Maggie Murphy, Cyril George, and Robert Whiting were all voted in as Class Representatives, each taking over 40 percent of the votes. The Independent Council representatives for the Class of 2016 are freshmen Paul Rich, Connor Ameres, and Taha Mehdi.
Schramm explained that his goals as Class President are simple in nature. "Our class is still getting on our feet in terms of college academics and living," he said. "I hope to provide as much stability as possible so that the ground does not shake while we all begin to stand on our feet." Schramm hopes to hold events open only to freshmen. Additionally, he will use his position as an outlet for the Class of 2016's criticism.
Rubinstein and Han also described their goals as senators. Rubinstein said she hopes to "utilize the Senate to foster supportive relationships between upperclassmen and the incoming Class of 2016." Her goal is to create these relationships that will both inform freshmen of both events and traditions of RPI like GM Week. Additionally she believes the connections between students will encourage first-year students to become more involved on campus. Han wishes to improve the campus in general, and mentioned that the Finance, Facilities, and Administration Committee is "dedicated to improve the situation on campus as much as possible."
Regarding the ten percent drop in voting numbers from the previous year, both Schramm and Han explained that there seemed to be very little awareness of the elections. Han said, "Many of my friends came up to me multiple times asking me when elections were." Both also mentioned that the Class of 2016 exhibited some reluctance regarding elections, partly attributing the lower turnout to voter apathy. R&E Chair William Toth '13 said that, because so few freshmen ran during the elections, "there was not much of a desire to campaign, since election was almost guaranteed for many of the races. This also means [fewer] candidates make the effort to really poster and get their names out there. A lot of people expressed to me that they would not vote since they did not know any of the candidates."
Rubinstein pointed out, though, that when comparing blocks of elections—rather than comparing this year to last—voter turnout has remained roughly the same. Toth agreed, saying, "While 33 percent is not a high turnout, it is not necessarily low either. Last year the turnout was at about 46 percent, while the year before it was at 36 percent, so there is a lot of variation year to year."
For more information about the elections, including specific results and election rules, visit R&E's website at http://elections.union.rpi.edu/.