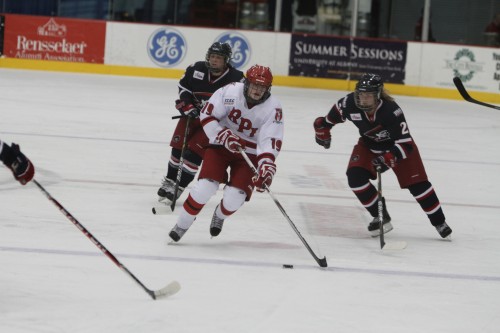 SMELKER SKATES in last year's game against Robert Morris University.
From Thursday, August 16 to Sunday, August 19, RPI junior Jordan Smelker played for the U.S. Women's National Under-22 Select Team against the Canadians. The series of three games took place in Calgary, Alberta at the new WinSport Canada Athletic & Ice Complex on Thursday, Friday, and Sunday. All three games were victories for the U.S. team, breaking a 13-game streak for Team Canada.
Along with around 90 other players from across the nation, Smelker arrived earlier in August at the week-long selection camp in Blaine, Minnesota, one of several camps held throughout the year. The first day consisted primarily of testing. "It was the worst part because it was so nerve-wracking," said Smelker. After several more days of off-ice conditioning and additional training, two under-22 teams were selected, along with one under-18 and one over-22. On Tuesday (August 14), the teams left for Calgary, beginning their five-day stay abroad.
On Thursday, the U.S. team won its first 60-minute game against Canada since 2004 with a 4-1 victory. Friday saw another U.S. victory at 4-2 for the second game, coming back from a 2-1 lead for Canada. The U.S. team swept the series on Sunday with a 4-3 win, scoring three goals in a row during the second period.
"It was really, really fun," said Smelker. "Just being able to walk into a locker room and see your name next to 'U.S.A.'" She particularly enjoyed playing alongside the other athletes, notably including the Lamoureaux twins, Jocelyne and Monique, who played in the 2010 Winter Olympics for Team U.S.A. and brought back a silver medal.
Last season, Smelker played in all 34 of RPI's games, scoring 10 goals and 16 assists for a total of 26 points, including two power play goals. In the 2010-11 season, she led the rookies (and was second overall) with 10 goals and 10 assists, and was the team's Rookie of the Year. Prior to RPI, she played for both Team Alaska 19U, where she led the squad in points, and Team Alaska 16U, where she was the team's Most Valuable Player. She is currently a biomedical engineering major at Rensselaer.