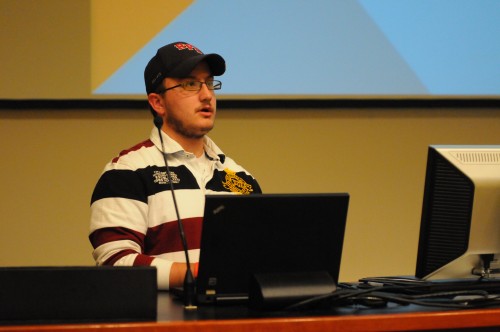 INTERFRATERNITY COUNCIL VICE PRESIDENT OF RISK MANAGEMENT STEVEN WOOD '13 SPEAKS to students about the structure and tasks of SPAM committees.
The Student Peer Alcohol Monitoring formation committee held an open forum on Tuesday to address concerns from the student body about how the program will function.
The forum began with a presentation by Interfraternity Council Vice President of Risk Management Steven Wood '13 explaining what the committee, which includes Associate Dean of Greek Life Matt Hunt and health educator Tara Schuster along with several undergraduate students and alumni, had decided in its four meetings to date.
"The overall concept of the program is to provide extra support in preventing risky behavior," said Wood. The committee's top three concerns have been developing an explicit job description for monitors, determining ways to handle and address liability, and finding a source of funding for the program.
In order to become a SPAM monitor, a student will need to complete several training programs (such as Training for Intervention Procedures, Alcohol Skills Training Program, and AlcoholEDU), plus a program-specific orientation.
The monitors will show up early to the event to perform a preliminary walk-through with the sober hosts.
During an event, the two monitors will regularly check event areas for risky behavior and report back to the event hosts.
If a life-threatening emergency occurs, the monitor should call 911 and notify the hosts, then continue care of the individual. "If cops come, the monitor does not have the right to speak with the police before the officers of the host organization," said Hunt.
After the event, each monitor will complete an event report, which will only be given to the event hosts. "Nothing that happens from the monitor ever gets to the administration," said Panhellenic Council President Elisa Novelli '13. "This is a peer-monitoring program, not a staff or school monitoring program," added Hunt.
Throughout the forum, Hunt continued to stress SPAM's non-authoritarian purpose. "The idea of this program is not to get people in trouble," he stated. "It's not to really 'crack down' on anything."
During the question-and-answer session, Hunt addressed the "elephant in the room"—underage drinking. "[SPAM Monitors are] never going to be looking for it," he said, explaining that their main goal is to focus on other equally important areas of risk at parties.
The SPAM program will fall under the Student Health Center, and is hoping to have a test run from a volunteer event by the end of the semester.