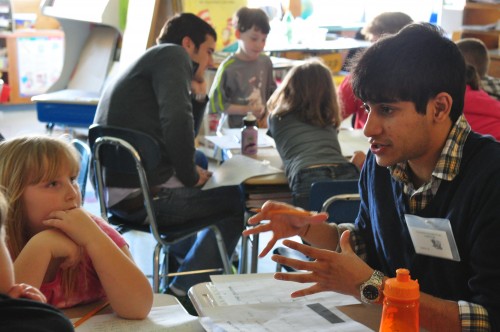 ARUNESH GHOSH '12, A MEMBER OF ECOED, DISCUSSES the subject matter that first grade students at Tamarac Elementary are expected to learn during their program.
Earlier this week, Professor of Sustainability Studies Kim Fortun traveled to Oxford, U.K. to give a lecture on the intertwining of ethnography and "eco-education." To strengthen her point, she used examples from the many research programs currently being conducted by RPI's EcoEd Research Group.
One such program, titled "Eat Local! Exploring Sustainable Food Options," involved a workshop with middle school students in grades six through eight. These younger students prepared their own meals, learning the pros and cons of consuming local and organic products. They also learned about the differences between organic food and food produced by industrial means, as well as the problems associated with the latter. The goal of the program was to get these students to retain this information in the hope that they will move away from industrialized food in the future.
Another program took a more academic approach to research. It again involved middle school students, who toured the campus, then discussed various courses, degrees, and career pathways in each of the academic schools at RPI, as well as how each can impact environmental issues. The students then observed a debate among Rensselaer students regarding the question, "Has the industrial chemical revolution—which gave us polyester, plastics, pesticides,