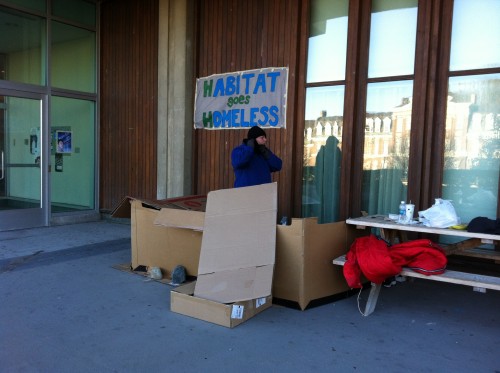 HABITAT FOR HUMANITY HOLDS an awareness event outside the Union. Students stayed outside overnight to represent homelessness and bring awareness to their cause. They also accepted donations.
At noon on Monday, a group of students in RPI's chapter of Habitat for Humanity set up outside the Rensselaer Union for Habitat Goes Homeless. The event lasted through the night until noon on Tuesday, with people taking shifts the entire time.
Although the main purpose was to increase public awareness about the organization, they also collected donations of cans and blankets. "Our club is secondary to the message we are getting out," said Justin Witkowski '14, one of the volunteers who stayed outside through the night.
Habitat for Humanity is a nonprofit organization aiming to provide decent, affordable housing for people who need it. Families in the program only pay for the cost of materials, and they help with the building as well. RPI's chapter started in 2002, and they often work as volunteers with Rensselaer County's Habitat for Humanity on build sites. The current president is Gina Paolillo '12.
For Habitat Goes Homeless, student volunteers camped outside the Union, starting with only sleeping bags and some cardboard boxes. Along with Witkowski, Kyle Mattson '12, Shannon Holly '14, and Christian Cervera '15 stayed overnight, soliciting donations of food and blankets from passersby. They took shifts with a few other club members during classes to keep the area staffed for the entire 24 hours. By the morning, there was a whole cardboard structure built up. "We want to get our name out there," said Witkowski.
On April 15, they will be following up with another event: Home Run for Habitat. It will be a race at Harkness Field to raise funds for the organization, and is open to RPI students and faculty, as well as anyone else from the Troy community. Registration will be in the Darrin Communications Center and in Commons Dining Hall.
Anyone wanting to get further involved with Habitat at RPI is invited to participate in their Saturday builds, which are held every week. More information is available on their website, http://habitat.union.rpi.edu/.