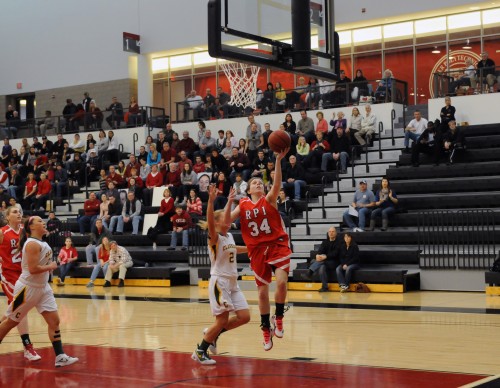 SOPHOMORE GUARD KELLY PIOTROWSKI JUMPS to make a layup in one of RPI's recent home games against Clarkson University at the East Campus Arena.
The women's basketball team put up a solid fight against Vassar College, but could not get the win in a close semifinal game of the Liberty League Tournament. RPI started well and took the lead two and a half minutes into the game on a three-pointer by senior Sarah Wetmore. She then scored an additional seven points as RPI extended its lead to a 15-7 advantage.
Halfway through the period, came a stretch in which the teams exchanged several baskets, the lead ranging from seven to nine points several times. With five minutes left in the half, RPI held a seven-point advantage. A basket by Wetmore would be all RPI would get for the rest of the half as Vassar went on a 9-0 run to close it out with a 30-29 lead.
Vassar came out of the break with momentum and extended its lead to four points. However, a jumper by freshman Jen Rock and a Wetmore three-pointer gave RPI the 34-33 lead. Vassar would retake the lead, but a Rock free throw would tie the game at 37 with 14:39 remaining in the game. After a series of misses and turnovers by both teams, Vassar took a four-point lead.
Baskets by senior Hillary McKinley and Rock tied the game almost immediately, and then a free throw by Wetmore gave the Engineers the lead with just over 10 minutes to play. The game would remain close for the next six minutes as both teams traded baskets and turnovers. With 4:27 left to play, the game was tied at 48. After four-straight Vassar points, McKinley responded with a three-point play to cut the lead to one point with two minutes remaining. Unfortunately for the Engineers, those were the last points they would score and Vassar would close the game out with another four-straight points.
Despite their semifinal loss, McKinley, Wetmore, and Rock were honored with postseason awards. McKinley was named to the All-League First Team as well as being named the Liberty League's Women's Basketball Player of the Year. She led the Engineers in scoring with 14.6 points per game, rebounding with 10.4 per game, and blocks with 70.
Wetmore was named an Honorable Mention to the All-League First Team as she was second on the Engineers in many categories. She scored an average of 13.8 points, had 6.6 boards per game, and recorded 68 assists and 40 steals.
Rock was named co-Rookie of the Year and was named to the All-Rookie Team. Rock was third on the team in scoring with 8.2 points, rebounding with 4.8 boards, and assists with 49. She also had a stellar defensive year with 41 steals, including 21 games with a steal and 10 with at least two.
Even though only three players were honored with awards, the Engineers played excellently as a team this year, finishing second in the Liberty League standings with a 10-6 record. They will hope to improve on their semifinal exit next year and believe that they can win the Liberty League Tournament.