Angelica Izuwah
Associate Business Manager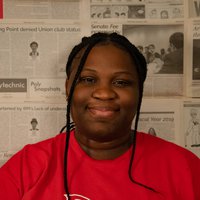 ---
Angelica is a junior Mechanical Engineering major from Nigeria with a serious love for reading. She enjoys drawing and painting during her free time.
Previous positions
Business Manager December 2021 to April 2023
Associate Publicity Editor October 2021 to December 2021
Associate Copy Editor April 2021 to October 2021
News Coordinator March 2021 to April 2021
On-Campus Event
As a part of the Earth week events, the Student Sustainability Task Force held a conference to bring attention to the need for an Office of Sustainability at RPI.
COVID-19
After 13 months of inactivity due to COVID-19 restrictions, RPI Ambulance services resumed on April 12. The decision to do so comes after the Senate passed a motion addressing the concerns of residential assistants on February 3.
Executive Board
The Union Executive Board passed a motion to approve RPI Fire Emblem as a Union-recognized club.