Men'S Hockey
Fans freak out over the Big Red Freakout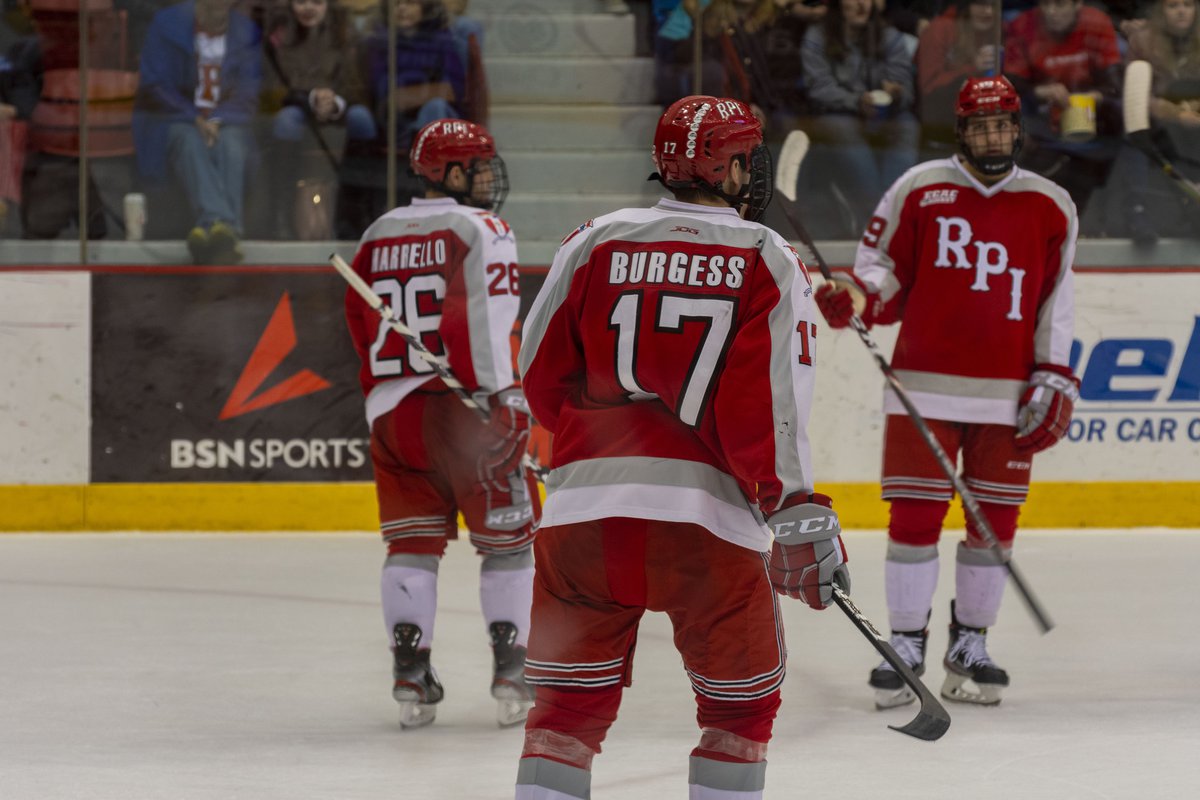 A packed Houston Field House celebrated as the Engineers beat the University of Vermont 1‒0 in the 43rd annual Big Red Freakout game.
Rensselaer's offense in the first several minutes was quick, darting passes around the zone to open up space. With 18:33 left to play in the first frame, UVM was gifted a power play after RPI was called for cross-checking. The Catamounts offense had several shots on goal, including a shot from defenseman Christian Evers behind the blue line that rattled off of the crossbar. After the powerplay, the Catamounts led the Engineers 8‒1 in shots on goal. The game did not look good for the Engineers.
With 8:20 left to play in the first, penalties were dished out to UVM's Max Kaufman for tripping and RPI's Patrick Polino '20 for embellishing the trip. During the resulting four-on-four, RPI captain Will Reilly '20 was seemingly tripped—considering UVM forward Johnny DeRoche, wedged between his legs, caused him to fall to the ice—in the Dartmouth zone, but there was no call. The first period finished at 0‒0 with UVM leading shots on goal 17‒10.
With 18:27 left to play in the second period, Kaufman was called for boarding. During that power play, the Engineers' attack was spoiled every time, having only two scoring opportunities. As the period progressed, RPI began to look better and began to have better scoring chances. With 5:55 left to play in the period, RPI defenseman Jake Johnson '22 ripped a shot from the blue line which was tipped by Chase Zieky '20 then saved by UVM goalie Tyler Harmon; Zieky converted the rebound to give RPI a 1‒0 lead.
With 4:50 left, a shot from Vermont defenseman Cory Thomas was saved by RPI goalie Owen Savory '22 which then resulted in a goalmouth scramble. Savory laid on the ground to save the subsequent attempts from UVM forwards to pry the puck under him. The Catamounts were held goalless. The period ended with RPI leading 1‒0 and the Catamounts leading shots on goal 27-26.
The Engineers were called for three penalties in the third period, giving the Catamounts great opportunities to equalize. Despite RPI remaining fairly strong while short-handed, the Catamounts got a promising opportunity with 6:10 left to play. A one-timer from UVM forward Ace Cowens was initially saved by Savory, but the rebound popped up and Jacques Bouquot batted the puck towards the net to force Savory to produce another save. At 1:30 the Catamounts pulled their goalie, but could not convert.
The game ended with the Engineers winning 1‒0, giving them their first win in a Big Red Freakout in five years and the third shutout in Freakout history.