Gm Week 2018
Etzine campaign posters defaced
'This is unacceptable,' says opponent Etemadi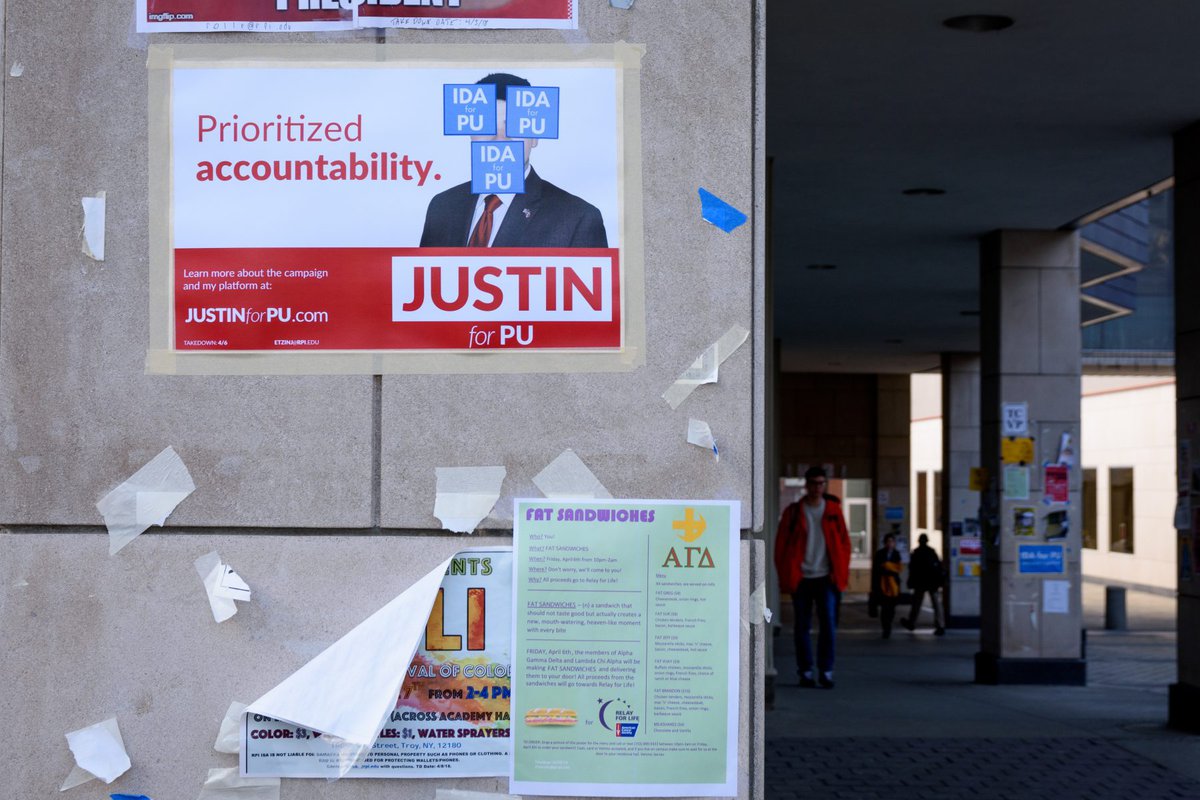 On Monday, posters belonging to president of the Union candidate Justin Etzine '18 were found defaced with stickers distributed by president of the Union candidate Ida Etemadi '19's campaign.
One poster, on the southeasternmost column of the Center for Industrial Innovation, had three stickers declaring "Ida for PU" placed over Etzine's photo. Another poster, located on a column between the Jonsson Engineering Center and the Darrin Communications Center, had one "Ida for PU" sticker covering "PU" in "Justin for PU."
The GM Week 2018 Elections Handbook outlines an extended sign policy that applies to campaign-related material. Section 6, item 8, reads, "Respect other candidates and their campaigns. Do not tamper with or poster over other campaign materials." The Elections Commission may issue sanctions if it determines that a violation of the Handbook has occurred. There have been no sanctions related to the defacement issued at this time.
In an email to The Polytechnic, Etemadi wrote, "One of my candidate assistants, Rasika Ekhalikar, was the first to notice while we were tabling today, April 2nd. Once she told me, I immediately reported it to Caleb Caraway, head of RnE committee, at 2:12 PM." She added, "This is unacceptable, and I have been reminding people who take stickers to not place them on other candidates posters. This is not an activity that me or my campaign assistants condone to any degree."
When reached for comment, Etzine wrote, "I was aware of the stickers, and my campaign is working to replace the affected posters as quickly as we can. Every year, candidates face issues with their posters being removed and damaged, and I hope that we can continue to see an elections cycle with civility, integrity, and camaraderie."
A primary election is being held today for the position of grand marshal. Polling is open from 9 am to 7 pm.