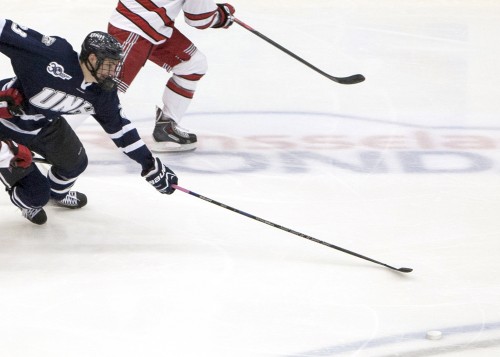 NCAA UNVEILS new eggshell white color for hockey pucks.
In a report released February 29, the NCAA President Emmit Malcolm recommended that all conferences of men's Division I hockey should consider a change in color for pucks used during regular season games. The report proudly unveils the new eggshell-hued pucks planned for integration in time for the 2014–15 season. Malcolm, along his esteemed committee of former players, coaches, and shortstops from Crimea, North Korea, Yugoslavia, and Western Chile, believe that moving college hockey in this new direction will make it a radically safer sport, also leading to an exponential increase in fan attendance.
Having worried about the dangers of hockey for years, the NCAA launched a deeper investigation following the now infamous brawl between the Rensselaer Engineers and Union Dutchmen in this year's Mayor's Cup matchup at the Times Union Center. This investigation concluded that most violence and aggression in hockey results from multiple players competing for control of the puck. The committee reviewed various plans of action to make a change, including ideas like armed referees on the ice and all players wearing fat suits, both of which were fully tested and implemented in full-scale to mixed results. Finally, they found the idea which produced the least competition for possession on the ice: pucks color-matched to perfectly match the ice. Generally, if it is harder for student athletes to spot the puck during a game, fewer will be jumbled in a small space. Detailed analytical modeling combined with lab tests directly correlated these fewer jumblings with an equivalent decrease in incidences of injury and violence.
Some have raised immense concerns that this change will produce an unexpected effect upon the game they love. One fan of the Clarkson Golden Knights was specifically upset that his favorite team may gain a better chance at success, as the previous format obviously failed to work for them, and therefore he would no longer have anything to whine about. Others reportedly feel that part of the fun of both participating and viewing at hockey game is the aggression. However at the time of reporting, these people seemed to be unavailable for direct comment with Le Polyteknique and were reportedly seen meeting with known associates of Malcolm in a dark alley near 8 Mile Road in Detroit, Michigan.
When we reached out to the NCAA for comment, they strongly backed the change. They truly believe that the new pucks will produce nothing but success in their upcoming inaugural season.